By Julie Pierce, 4Sight Coach

"Truly, the best thing any of us have to bring to leadership is our own transforming selves." ― Ruth Haley Barton, Strengthening the Soul of Your Leadership

As leaders, we're always looking out for our teams. How can we help them be successful? Where do they need to grow? What resource or challenge would unlock their potential?

If we're not careful, we can get so focused on them and their growth we end up going a really long stretch without a thought about our own. Because we have so much coming at us from every direction, we have to find simple, consistent ways of investing in ourselves. Over the years, there have been two simple ways I've consistently invested in my leadership growth that has had a dramatic impact on the leader I've become.

The two most impactful ways I've invested in my own growth have been coaching and reading.

Coaching
Every leader needs someone in their corner who wants nothing more than to see them succeed. Working with a coach accelerates your growth. Their consistent encouragement and challenge fuels your motivation and momentum.

Here are a couple of simple next steps to take to explore coaching:
Write it down. Choose one area of your leadership where you feel stuck or would like to grow. Write out what the situation looks like and how it impacts you and your team. Next, write down what it would look like to be unstuck or to have grown in that area. Think through the benefits of being on the other side of the scenario

Meet a coach. You want a coach who is professional, experienced, and passionate about helping leaders grow. The 4Sight Group coaches are all that and more. You also want a coach you feel you really connect with, where the conversation flows easily. The best way to find out if a coach is a good fit for you is to schedule a free consultation. Get to know them by asking questions about their experience and approach to coaching. Share a little about you and the one area of your leadership that you want to focus on in coaching.

Make it sacred. Once you've found a coach you're excited to work with, put those regularly scheduled meetings on the calendar and protect them with your life. Let your team know your coaching meetings don't get moved or double booked.
Reading
One of my favorite sayings is, "Leaders are readers." I've been known to declare this on the regular to staff teams, students, and my own kids. Thoughtful, consistent reading is one of the simplest ways to spark innovative thinking and strengthen your skills.

A few ideas for getting started:
Read for 30 minutes every day. Pick a consistent time and place to dive into your lead read: morning coffee break, audiobook during your commute or workout, or a private lunch and learn on the patio.

Read one book a month. Big reading goals can feel daunting when you're always pressed for time, but one book a month is doable for any leader. (Especially if you're reading for 30 minutes a day!) Pick titles from curated lists like this one and then purchase the books so they are waiting for you on your "to be read" shelf. Another approach would be to email a handful of leaders you trust and ask for their most impactful reads and select titles from their recommendations. Or you could join a leader book club like Michael Hyatt's LeaderBooks where the books are chosen for you and reading guides and other resources are provided.

Read with other leaders. If an official book club feels like too much of a commitment to you, why not take the pressure off? Pick 3 or 4 books you want to read. Text 3 or 4 leader friends what you're reading and ask if they would like to join you. Set a date for a month from now to talk about three things: what you loved, what you learned, and what you're going to do about it. Then, invite them to read the next book with you. Easy and casual; no big prep, but big potential payoff.

Read through an author's entire library. Whether it's Patrick Lencioni, Brene Brown, Mark Miller, or Chip and Dan Heath, select one author's list of titles and work your way through each one. (Taking notes to share with your team, of course!)

What if this year, you focused on these two simple strategies for your own personal growth? What kind of leader would you be next year if you owned your own development now?

There will no doubt be courses and conferences that help you and your team take next steps together. But if you want to lead yourself well and own your growth in the year ahead, coaching and reading are two simple efforts to implement now for exponential impact on your leadership.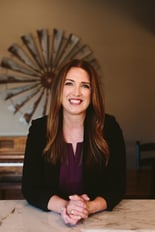 4 Sight Coach
Areas of Expertise:
- Executive and Team Coaching
- Leadership and Development Strategies
- Team Dynamics
- Leading through Change and Transitions
For more coaching resources, listen to this podcast episode.