3 P's of Professionalism
I want to dive into a thought-provoking question that has been on my mind lately: "If everyone was as professional as me, how professional would we be?" It's a fascinating concept that reminds me of one of my all-time favorite children's books, "What if Everybody Did That?" It's the kind of thought that sparks curiosity and challenges us to be better versions of ourselves.

As leaders, we are called to raise our game and set the standard for excellence. So, let's talk about the "3 P's of Professionalism" that I believe can truly make a difference in our lives and in the lives of those around us.

The first P stands for "Presence."
Professionalism is not synonymous with being boring, stoic, or stuffy. Casual doesn't have to mean unprofessional, either. Instead, let's focus on the gift of our presence to others. How do we show up? How do we approach people and situations?

Being slow to react and quick to respond is crucial, especially in this fast-paced world. Great questions are powerful tools that can help us get to better outcomes and different perspectives. And let's bring our positive passion to the table. Instead of shutting down ideas with, "That will never work," let's ask, "What does this make possible?"

Honor and respect should always be at the core of our interactions. Let's build others up with life-giving words and avoid cutting them down, even in jest. And don't forget to think about the impact of our actions on the collective whole by asking, "What if everybody did that?"

The second P is all about "Preparation."
Are we helping or hindering our team with the level of preparation we bring to the table? Let's mind our margins and schedule buffer time to avoid rushing from one meeting to another. Being early is being on time, and being on time is being late – let's strive for excellence in our punctuality.

Reading and researching are superpowers that can turn us into subject matter experts. When communicating with others, let's keep it concise and tailor our approach to their preferences. Providing executive summaries or bottom-lines upfront can help others focus and engage effectively.

And, the last 10% matters! Double-checking details and having someone else review our work can be a game-changer.

Finally, the third P is "Pave the Way."
As professionals, we have a duty to help our team succeed. This is where servant leadership comes in. Let's step into others' shoes, understand their challenges and expectations, and be forward-thinking to anticipate potential pitfalls.

Following through on our promises is vital. We don't want to be the ones others have to chase down for what we committed to doing. Instead, let's supply solutions rather than just problems and be known for our reliability.

Who has exemplified professionalism and paved the way for you this week? Take a moment to share your thoughts and appreciate those who have made a positive impact on your life.

Remember, as we embrace the 3 P's of Professionalism - Presence, Preparation, and Paving the Way - we become the standard bearers for excellence. Let's step into this season of leadership with passion and purpose and, together, let's elevate our professionalism to new heights.


- Julie Pierce
Want to learn more about topics like this?
Join Jenni Catron, Genea Browne, and special guests for the 4Sight Leadership Institute, where we provide practical training, coaching for application, and accountability for implementation to equip you to thrive in your leadership.
Are You New to The 4Sight Group?
As leaders, we're full of ideas and initiatives. We see potential and opportunity all around. We can almost taste the outcome, but often we get bogged down by how we'll get from here to there.
The "how" can be overwhelming and discouraging, so we give up on our goals or fail to build a plan to help us achieve them.
These five steps will get you and your team on the path to moving from ideas to action! We'd love to have you join our community and access this free PDF!
Keep leading well!

Jenni Catron and The 4Sight Group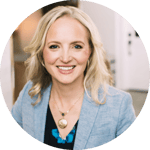 Jenni Catron is a writer, speaker, and leadership coach who consults churches and non-profits to help them lead from their extraordinary best. She speaks at conferences and churches nationwide, seeking to help others develop their leadership gifts and lead confidently. As Founder and CEO of The 4Sight Group, she consults with individuals and teams on leadership and organizational health.
Jenni is the author of several books, including Clout: Discover and Unleash Your God-Given Influence and The 4 Dimensions of Extraordinary Leadership.