Avoid the Administrative Rabbit Hole
The opportunity to coach, write, and speak on the topic of leadership is a gift that I hope I never take for granted. But a productive work rhythm is an art to be mastered.
The administrative rabbit hole is real–for all of us. Many would agree it's key to develop rhythms and routines that help us maintain priorities. But even when we know better, we can find ourselves down the rabbit hole overwhelmed trying to find our way out.
But here's the thing, when circumstances change or responsibilities increase, the issues are still the same. It's all about self-management. So whether I'm managing my business, leading a team, or sitting in my home office with my four-legged friend at my feet, I have to resist the administrative rabbit hole.
5 Ways to Guard Your Priorities
Before you begin your day, determine your priorities. You might set these priorities as you wrap up the previous day, in the morning or sometime in between, but whatever you do define your priorities before you sit down and open your computer!

Pre-determine when you check emails and structure your workflow. You must manage your emails and not allow your emails to manage you. Consistently reacting to emails will put your day's productivity in danger before you even think about lunch.

Map out your schedule each day. I'm very competitive and goal-oriented, so I begin each day by mapping out my time. I account for every 30-minute window, and then I challenge myself to stay on schedule. If I only have 30 minutes to check and respond to emails, it's incredible how fast I can clean out my inbox. Putting time limits on tasks will keep you moving forward quickly.

Change your scenery. I quickly get antsy and bored where I lose focus simply because I've been in the same place for too long. When possible, change where you work throughout the day. Here's a great quote.

Change of Place + Change of Pace = Change of Perspective.

Mark Batterson, Wild Goose Chase

Do what only you can do and do that first. This brings us back to the first point about determining priorities, but it's worth repeating. We can get lost down the administrative rabbit hole when we lack the discipline to do the hard things first. It's easy to be lured by a sense of accomplishment when we check a few things off a list rather than spending time on one major priority that only you can do. Do the big or harder things first when you are fresh and energized.
Plan A Healthy Work Rhythm and Routine
Maybe you're scrambling to get clarity on your priorities. Don't let life's whirlwind keep you from being purposeful.
I want to encourage you not to give up even if your schedule is packed. Take out your calendar right now and find at least one hour that you can devote to thinking, planning, and prioritizing. I promise this hour will not be wasted. It's the most valuable work you can do for yourself and your team. Make the time and make it happen.
What are your tricks of the trade for keeping yourself focused on the right priorities?
Keep leading well.
Jenni Catron and The 4Sight Group
Want to learn more about topics like this?
The 4Sight Leadership Institute provides practical training, coaching for application, and accountability for implementation to equip you to thrive in your leadership. Enroll today!
** Are You New to The 4Sight Group? **
As leaders, we're full of ideas and initiatives. We see potential and opportunity all around. We can almost taste the outcome, but often we get bogged down by how we'll get from here to there.
The "how" can be overwhelming and discouraging, so we give up on our goals or fail to build a plan to help us achieve them.
These five steps will get you and your team on the path to moving from ideas to action! We'd love to have you join our community and access this free PDF!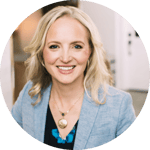 Jenni Catron is a writer, speaker, and leadership coach who consults churches and non-profits to help them lead from their extraordinary best. She speaks at conferences and churches nationwide, seeking to help others develop their leadership gifts and lead confidently. As Founder and CEO of The 4Sight Group, she consults with individuals and teams on leadership and organizational health.
Jenni is the author of several books, including Clout: Discover and Unleash Your God-Given Influence and The 4 Dimensions of Extraordinary Leadership.