Some years ago, I invited a handful of ladies to join me for a leadership-focused Bible study group. I was feeling God nudge me to create a place for women with leadership gifts to gather together, build community, and grow in their faith.
Frankly, it didn't make sense. I was the Executive Director at Cross Point Church at the time, and my schedule was insane with the responsibilities of two building projects, a rapidly growing church with another campus launch, and leading staff. I didn't have time for it, and yet it was clear that I needed to do this Bible study group.
I began to pray about the invitation list. I quickly identified a seemingly random group of leaders, most of them in seasons of change or transition.
One was leaving her job to become a full-time author, another was hoping for a big promotion, two of them were starting a business together, another was a corporate attorney, a couple of them were in education and non-profit work, and a new stay-at-home mom detoxing from corporate life and adjusting to less sleep and lots of diapers. We were quite a crew!
Champion Each Other's Dreams
We started our group, but with my busy schedule, most weeks I raced into our time together late, frazzled and feeling like I was failing them. I had very little to give, but I faithfully led the gathering.
It didn't take long for friendships to form and for conversations to easily flow. While our seasons of life were different, the concerns and fears were not. We listened and prayed for each other, and we championed each other's dreams.
The group disbanded when I made my move to California before coming to Wisconsin, but the investment we made in each other still bears fruit.
The Gift of Belief
One of those amazing ladies was Annie Downs. Here's a comment she posted on Instagram.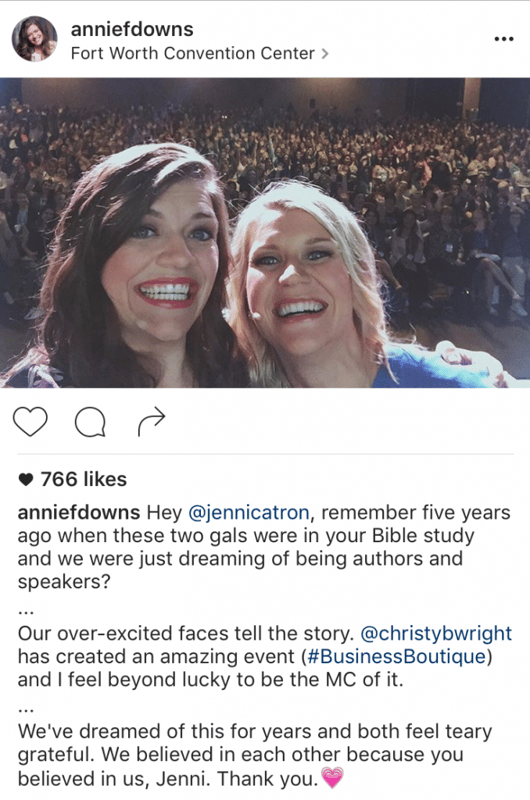 I don't post this to say, "Hey, look what I did!"
There was nothing extraordinary about that season. It was just obedience. It's one of those rare times that I listened and obeyed even when it wasn't convenient for me. God took that obedience and produced fruit.
The only thing I'll take credit for is giving these women the gift of belief. I believed in them. I wanted to see them grow, and I encouraged the dream of their hearts. I prayed with them. I celebrated, and I mourned with them.
Here's the thing, the gift of belief is one of the most powerful gifts we can give to others. Here's why.
It doesn't cost much–mostly a little intentionality. It can produce a radical return on the investment.
The gift of belief is limitless. You won't run out of it.
The gift of belief reproduces. When you give someone the gift of belief, they, in turn, pass it on to others.
See Others for Their Potential
Who can you give the gift of belief to today? I promise you; there is someone in your life who needs you to see and believe in their potential.
---
** Are You New to The 4Sight Group? **
As leaders, we're full of ideas and initiatives. We see potential and opportunity all around. We can almost taste the outcome, but often we get bogged down by how we'll get from here to there.
The "how" can be overwhelming and discouraging so we give up on our goals or fail to build a plan to help us actually achieve them.
These five steps will get you and your team on the path to moving from ideas to action! We'd love to have you join our community and access this free PDF!
---
Jenni Catron is a writer, speaker, and leadership coach who consults churches and non-profits to help them lead from their extraordinary best. She speaks at conferences and churches nationwide, seeking to help others develop their leadership gifts and lead confidently. As Founder and CEO of The 4Sight Group, she consults with individuals and teams on leadership and organizational health.
Jenni is the author of several books, including Clout: Discover and Unleash Your God-Given Influence and The 4 Dimensions of Extraordinary Leadership.