Navigating Peer-to-Peer Leadership: Earning Relational Authority
Today, I want to delve deeper into a topic that often arises during my coaching sessions with teams—peer-to-peer leadership.

How do you lead or influence your co-workers when you lack direct authority over them?

Learning to lead without holding positional power is where we truly hone our leadership influence and pave the way for future opportunities. Whether you're navigating the complexities of a larger organization, or leading a tight-knit team, mastering peer-to-peer leadership is crucial.

So, let's dive into the essence of this leadership style and explore three ways to earn that all-important relational authority.

1. Give and Earn Respect

Respect is not just a buzzword; it's a fundamental building block of leadership, especially in peer-to-peer dynamics. The essence of respect lies in both giving and earning it. So, how do you earn it?

It begins with three pillars: consistency, dependability, and accountability. When you commit to something, follow through on your word, even when no one is watching. This level of integrity resonates with your peers and sets a standard for reliability within your team.

In the words of Philippians 2:3, "Do nothing out of selfish ambition or vain conceit. Rather, in humility, value others above yourselves." To earn respect, we must prioritize others and put their needs before our own. This selflessness builds trust, an essential component of any influential leader's toolkit.

2. Combat Silos, Don't Create Them

In the world of peer-to-peer leadership, the concept of "team" takes center stage. It's crucial to remember that, even without formal authority, we're all on the same team working toward a common goal. There's simply no room for territorialism. After all, nothing truly belongs to any one of us; it's a collective effort.

Let's aspire to be the kind of teammates we'd want to have. Reflect on the qualities of an outstanding team player and embody those qualities within your team. Encourage collaboration and inclusivity, as these actions strengthen the bonds that tie your group together.

3. Communicate Clearly
Effective communication is the lifeblood of any successful team. As peer leaders, sharing information freely is not just a choice; it's a mark of genuine leadership. Keep in mind that people can only get behind what they understand. Therefore, if you possess essential information, share it with your peers generously. Avoid the temptation to hoard knowledge, as it's a selfish act that hinders the team's progress.

And don't shy away from challenging conversations. While addressing issues head-on might be uncomfortable, it's necessary for individual and organizational growth. Always ask yourself the pivotal question: "Who needs to know this?" Being intentional about your communication demonstrates that you're thinking beyond your personal interests.
---

Peer-to-peer leadership is the crucible where leadership is forged. It's a place where we learn, grow, and earn relational authority that paves the way for future leadership opportunities. By giving and earning respect, fostering teamwork, and communicating clearly, we can excel in this vital leadership area.

Let's embrace peer-to-peer leadership with open arms, knowing that it's a stepping stone to even greater heights in our leadership journey. Together, we can make a difference, one relationship at a time.

Want to Learn More about Topics Like This?

Join Jenni Catron, Genea Browne, and special guests for the 4Sight Leadership Institute, where we provide practical training, coaching for application, and accountability for implementation to equip you to thrive in your leadership.


Are You New to The 4Sight Group?
Did you know that 4Sight has a comprehensive culture process to help you assess your current culture, define who you want to be, and build a plan to achieve the culture you desire? One of our certified LeadCulture coaches would love to guide you through the process of unleashing your team and accelerating growth. Schedule a free call to learn more.
Keep leading well!

Jenni Catron and The 4Sight Group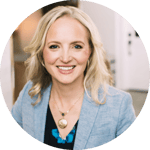 Jenni Catron is a writer, speaker, and leadership coach who consults churches and non-profits to help them lead from their extraordinary best. She speaks at conferences and churches nationwide, seeking to help others develop their leadership gifts and lead confidently. As Founder and CEO of The 4Sight Group, she consults with individuals and teams on leadership and organizational health.
Jenni is the author of several books, including Clout: Discover and Unleash Your God-Given Influence and The 4 Dimensions of Extraordinary Leadership.