Patience + Persistence Equals What?
Your organizational culture is building or eroding every day. Staff are coming and going. Strategies are shifting and changing. Team members are engaged or disengaged. Every behavior in the organization, individually and collectively, is impacting your team culture - for good or for bad.
For many of us, there has been erosion of culture lately. Staff turnover, flexible work routines, a global pandemic and economic uncertainty that has shifted engagement and required new strategies. Whether it's one of those, all of those, or something else entirely, I'm pretty confident your culture has taken a hit as of late.
Here's something I want you to hear:
"It didn't break overnight and it won't be fixed overnight."
That doesn't sound terribly exciting, but it's the truthful reality I share with leaders when they recognize some challenges in their culture.
Transforming a team culture or leading a healthy organization, especially in this season, is patient and persistent work.

The difficult things you're leading through require patience and persistence. And it's not enough to simply have one. You truly need both.
Patience is accepting that growth takes time.
Persistence is the determination to stick with it even if it's difficult.
If you lead with patience and leave persistence out of the equation, you never make any forward progress. Persistence without patience leads to steamrolling those you lead and burning them out.

But together, they yield an invaluable result.
Patience + Persistence = Perseverance
Perseverance matters to us as faith leaders because of a truth we see in Romans 5:3-5 which says:
"Not only so, but we also glory in our sufferings because we know that suffering produces perseverance; perseverance, character, and character, hope. And hope does not put us to shame, because Gods' love has been poured out into our hearts through the Holy Spirit, who has been given to us."
The end result of perseverance–the outcome of leading through difficult times with patience and persistence–is hope. Put another way, it's vision for the future.
In my book The 4 Dimensions of Extraordinary Leadership, one of the key characteristics extraordinary leaders embody is strength: the dimension of visionary leadership. The introduction states, "Visionary leadership means keeping hope in front of yourself and those you lead. It's recognizing that your job as a leader is chief vision caster every day." You get to bridge the gap for them between reality and possibility.
Keep leading well!
Jenni Catron and The 4Sight Group
---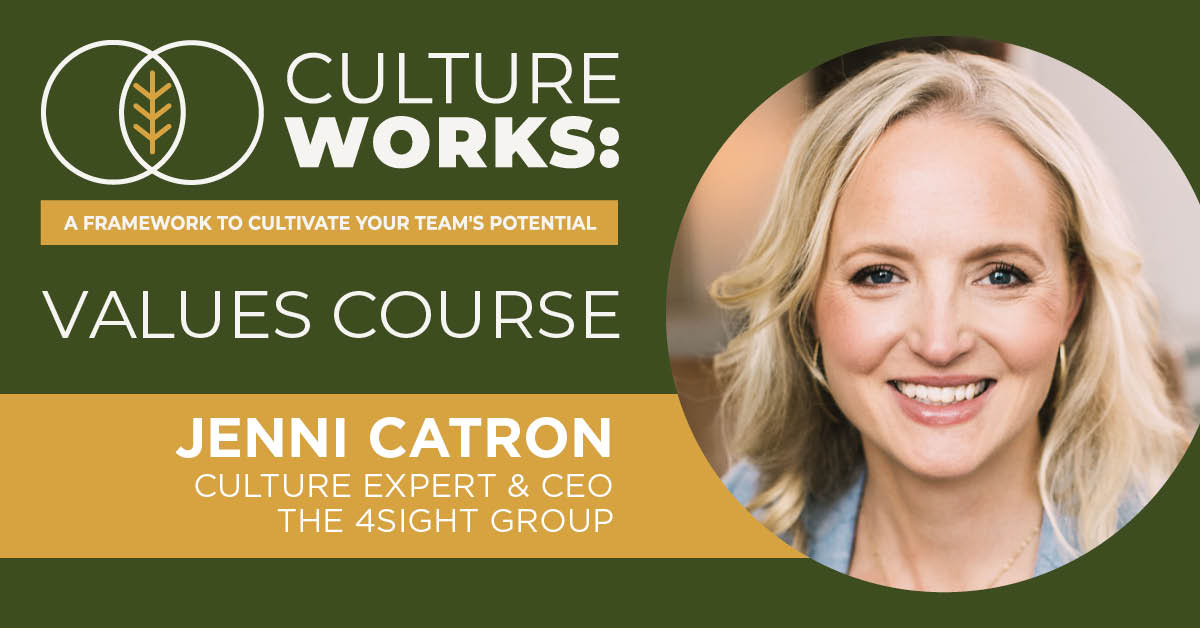 One key way that you can patiently and persistently build your culture is by defining values that provide direction and alignment for your team. My Culture Works: Values Course would be a great next step to defining values that align your team and help you achieve your mission.